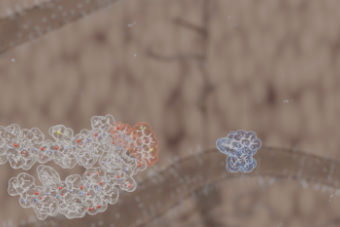 Signs and Symptoms of GSS
Sometimes Parkinson's-like
Gerstmann-Straussler-Scheinker disease
GSS is an extremely rare brain disorder caused by misfolded and aggregated prion (proteins) that form depositits, primarily in the cerebellum.
Typical early symptoms include gait changes, balance problems, walking difficulty and incoordination. Sometimes Parkinson's like symptoms are also seen.
Symptoms may also include difficulty in speaking, eye movement, hearing problems, visual disturbances and dementia.
GSS is an inherited disease affecting al least 56 known families. Age of onset is mid-life (30's – 50's) and duration is 2-10 years.
There is no treatment and the condition is terminable.
The two drugs combined in PK051 were identified when PharmaKure was screening for compounds that could disupt the amyloid-ß aggregates.
The research team included a doctor who was treating a patient with GSS. The patient had difficulty standing or walking and had deteriated to the extent that she had to be fed directly into her stomach.
The doctor proscribed compassionate use of the two drugs and within 3 days the patient had improved to the extent that she could interact with people and watch television. She went on to live with less symptoms of the diease for a year beyond clinical expectation.